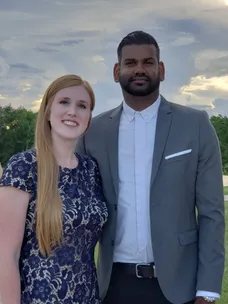 Cassie joined the healthcare team at Watson Pet Hospital in June 2007 as a veterinary assistant. She married her husband, Kiran, in November 2018. They welcomed their son, Kyler, in November 2019. They live in Baton Rouge with their 5 fur babies- Eleanor(dachshund), Becks (chihuahua/dachshund mix), Double Tap(cat), and Rupert(cat) and Moe Gibbs(cat). Cassie enjoys traveling with her husband and their dogs. When asked her favorite part of the job, Cassie said - "What I love most about my job is the friendships I have built with clients. I feel blessed that people trust us with their pets and that we can form a bond with them over a shared love for their 4-legged baby. Over the years our clients have also been there for me during hard times when I have lost my own pets, and that's so touching and moving to me."

Jeanne has been a part of our Watson Pet Hospital team since February 2018. Her favorite part about work is learning more about animal medicine. Jeanne and her husband, Gavin,have three boys Blayze, Ace and Arthur. They share their home with two corgis Muffin, Bingo, Conan a mix breed, Pumba a blind Domestic Short hair Cat, Nala a Domestic Short hair cat, and numerous chickens and ducks. On her off-time Jeanne enjoys spending time with kids and quilting.
Jennifer joined Watson Pet Hospital in November 2016. She has a daughter, Hayley, and son, Noah. She has a small hobby farm that consists of 7 dogs (Nova, Stella, Zoey Parker, Piper, Paisley, and Priscilla), 3 cats (Gizmo, Foxbait, and Ollie), 2 horses, 21 goats, 2 donkeys, and several chickens. In her time off, Jennifer enjoys taking her children fishing, kayaking, and horseback riding. Jennifer's favorite part of her job helping a sick patient feel better and reuniting them with their family.

Lacie Joined the Watson Pet Hospital team in September of 2021. She has been working as a vet assistant for about 5 years and is currently enrolled at Penn Foster College working towards becoming an RVT. She has a German Shepherd (Kaizer), a Pointer mix (Hazel), two shih tzus (Ember and Misty), four cats (Koda, Bella, Bean, and Little T), and four birds (Alfalfa, Pretty Bird, Tweety, and Pico). She is very passionate about her job and cares about each and every patient that we see.
Madison joined the Watson Pet Hospital team in November of 2020 starting out as a kennel assistant and has recently moved up to the role of veterinary assistant. She is currently enrolled at LSU and working towards her Bachelor Degree in Animal Science. She has a rescue dog (Tony) and a rabbit (Hag). She also loves children and babysits in her free time. Her favorite part of her job is being able to watch patients improve during treatment.