Patient Arrival Policy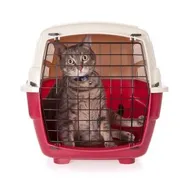 For your protection, and that of others, all dogs must be on a leash and properly controlled while in the waiting area or exam room. All cats must be presented in an appropriate cat carrier or leash. Upon arrival at drop-off, all patients will receive "Capstar" to ensure that fleas are not brought into our hospital and that your pet returns home flea-free. Capstar will not interfere with any other flea prevention.
Boarding and Drop-Off Policy
For the protection of our staff and other pets, all dogs dropped off for bathing, boarding, elective surgical procedures or other services must be current on rabies, bordetella (kennel cough), and DA2PLCPV (6 in 1) vaccines. All cats must be current on rabies, feline leukemia and FVRVP (4 in 1). Vaccines must have been administered by a veterinarian and proof of vaccination must be provided before admission. If proof cannot be provided, these vaccines will be administered by our staff at your expense.
Online Pharmacy Policy
You've seen TV advertisements for internet pet pharmacies-they promote the convenience of home shopping with the benefit of big savings, but are they a wise option for you and your pet? While most online pharmacies are trustworthy, some have questionable ethics and even some of the top pharmacies have been fined in several states. The FDA has issued warnings about purchasing from online pharmacies. For more information from the FDA please follow the following link: Buyer Beware.
We do have requirements when working with online pharmacies. There are important benefits that our pharmacy offers you and your pet which the internet companies cannot offer. Please call our office to discuss the requirements and any questions you may have with veterinary online pharmacies.